One of the reasons I love being at Milam, Knecht & Warner, is the great clients we have. One amazing client that I have had the pleasure to get to know is Dr. Jerold and Dorothy Beeve. Dr. Beeve is an ophthalmologist and has grown a very successful practice in La Canada with the support of his wife and nurse, Mrs. Beeve.They are an amazing couple with hearts as good as gold. And in addition to running their business, since 1991, they have been bringing a new world of clear eyesight to the underserved people of Fiji.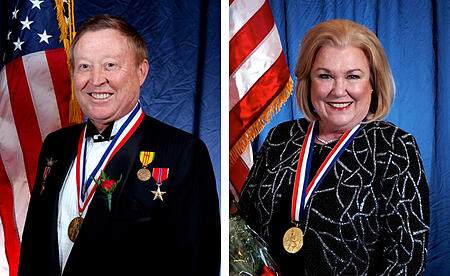 Jerry & Dorothy Beeve photographed after receiving
the Ellis Island Medal of Honor Award.

An Unforgettable Anniversary Trip
It all started in 1989 on their 25th wedding anniversary trip to Fiji. During their trip to Fiji, the Beeves quickly fell in love with the welcoming and cheerful people of Fiji. During their trip the Beeves keep on noticing the Fijian people suffering because of vision disorders that could be easily alleviated with access to modern eye care. Seeing their pain and need, the Beeves were determined to find a way to bring modern eye care to the Fijian people. They resolved on that trip to come back and restore sight.
In 1991, the Beeves returned with medical supplies and equipment and began work to restore eyesight and change lives. It was a difficult start since they did not have a proper medical facility to use. The first five cataract surgeries were done in their little thatched hut. But from the hope they saw restored to their Fijian patients, grew a determination in the Beeves to come back and help change lives.
From then on, every year, the Beeves have returned with more doctors, assistants, and supplies to give back eyesight. In September 2013, they completed their 22nd annual medical mission to Fiji. It was a huge success. With 26 volunteers, they were able to dispense 1,195 pairs of prescription glasses, perform 898 eye exams and 91 eye surgeries.
A few highlights from their 2013 Medical Mission Trip
The Beeves started a 501(c)(3) non-profit named The Beeve Foundation for World Eye & Health and with a team of passionate volunteers; they organize each annual medical mission to Fiji. Their 23rd trip is planned for September of this year. Since 1991, the medical missions have dispensed more than 25,000 pairs of glasses, and performed more than 2,000 surgeries and 26,000 eye exams.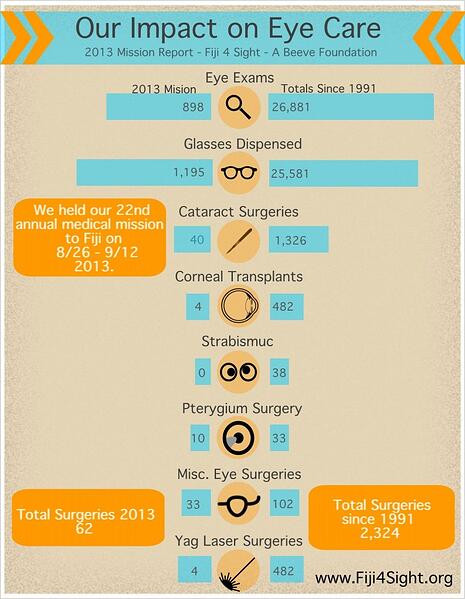 "These people come in and they're blind. And their parents died blind. And they think this is what's going to happen to them. And you take that patch off, and they get all excited and their arms go way up, and you're going yes, this is so exciting. This is what brings us back year after year after year."
-Dr. Beeve
"Once you see the joy that we bring to the patients, it's so rewarding. Because these people are in tears. After the patch comes off their eyes, they are just so happy, so delighted."
-Mrs. Beeve.
Learn more about The Beeve Foundation at www.Fiji4Sight.org.
I am so glad to have met the Beeves. Their kindness and desire to help others is an inspiration to me.
---
Michael Milam, CPA, CGMA, MAcc, is a founding partner of Milam, Knecht & Warner, LLP. He regularly speaks and publishes articles on tax and estate planning.

www.linkedin.com/in/mikemilam