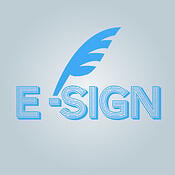 We are happy to announce that clients can now sign their engagement letters with an electronic signature! We are rolling this feature out starting with 2013 entity tax engagement letters. Everything can simply be done on the screen; no need to print, sign, scan, and e-mail back your letters.
E-Sign Your Engagement Letter in 5 Simple Steps
You will receive a link to your engagement letter via e-mail from documents@rightsignature.com (if you don't see it, check your spam folder). You will receive a separate e-mail for each engagement letter (one engagement letter per entity).

Click on the link in the e-mail and you will be taken to a web site displaying your engagement letter.

You will find the place for your signature on the last page.

Sign the letter by clicking on the "Sign Here" section of the screen and this will bring up a larger signature pad. Use your mouse to create your signature and enter a date.

Lastly, click the "Submit Document" button.
Once you have signed, dated and clicked on "Submit Document", we will receive a notification that you have signed your engagement letter and we will receive the signed copy. After you submit the document you will also have the opportunity to save/print the signed copy along with a signature certificate. You will also receive an e-mail link to the signed letter.
Please Note: Carefully read the foreign asset reporting requirements and ONLY check the box above your signature line if appropriate.

It Doesn't Look Like My Normal Signature
Don't worry if the signature doesn't look like the signature you would sign with a pen, the requirement for an electronic signature will be met if you sign it. If you would like more information regarding the legality of this signature method, please follow this link https://rightsignature.com/legality.

I Did Not Get That Option
If you did not receive an electronic signature option for your engagement letter and would like to do so, please contact us at letters@weaddvalue.com. We will get that set up for you right away. Also, we will begin phasing in this technology into other types of documents, which require signatures.

If you have any questions or difficulties, please do not hesitate to e-mail or call us. If you simply wish to sign a paper copy, please either print the engagement letter from the site by clicking on the "Download PDF" button to the right of the letter or e-mail us stating how you would like your letters delivered to you.
At Milam, Knecht & Warner, LLP, we are constantly searching for ways to streamline our processes, so you can maximize your time building your business.
---
| | |
| --- | --- |
| | Craig Wilson, MBA, is a partner at Milam, Knecht & Warner, LLP. With his strong information systems background, he oversees our internal infomation system and consults on a wide vareity of information systems situations for clients. |