I love to travel and I love a great deal. When I can put those two together, I am in total bliss. One way I have found to make this happen is through the savvy use of airline miles. Getting the best value out of your airline miles can turn into a lengthy discussion, but in this article I will constrain myself to just share some gems that I have come across.
Travel + A Great Deal = Total Bliss
Chances are, you have an American Express card with membership reward points, such as the Platinum, Gold, or the new EveryDay card. If not, I would suggest that you look into getting one. The beauty of the membership reward points earned on American Express cards (amex cards) is that you can transfer those points to any of 17 different airlines. One of my favorite to transfer to is British Airways. British Airways calls their miles "avios".
British Airways prices their award tickets on a distanced based chart. Because of that, there some great deals to be had. Here are some of my favorites:
Domestic Options
Los Angeles to Honolulu for 25,000 round-trip in economy class

Los Angeles to Chicago for 20,000 round-trip in economy class

Los Angeles to Salt Lake City for 9,000 round-trip in economy class

International Option
Los Angeles to Berlin – 60,000/120,000 round trip – economy/business class

The Alliance in the Skys
With British Airway being part of the Oneworld Airline Alliance, you can redeem your avios for tickets on other airlines in the alliance such as American Airlines and Air Berlin. A full list of Oneworld partners can be seen at http://www.oneworld.com/member-airlines/overview
In a few steps, you can redeem your points for one of these options and many more.
I'll walk you through the steps to book a flight from Los Angeles (LAX) airport to Honolulu (HNL) airport.

How to Book It - 3 Tips
1) Find availability on AA.com
Even though I will be using British Airways Avios to book my award ticket, I prefer to search for the award availability on aa.com, which has a great month calendar view that makes it quicker and easier to find flight availability.
I type in my airports, choose my dates, and select "Redeem Miles"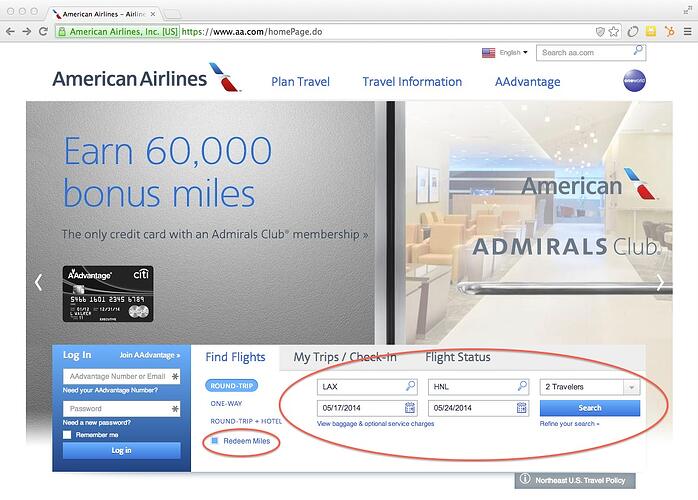 I am looking for "Economy MileSAAver" award availability. And I click on the "Show Full Calendar" and the "non-stop only" option.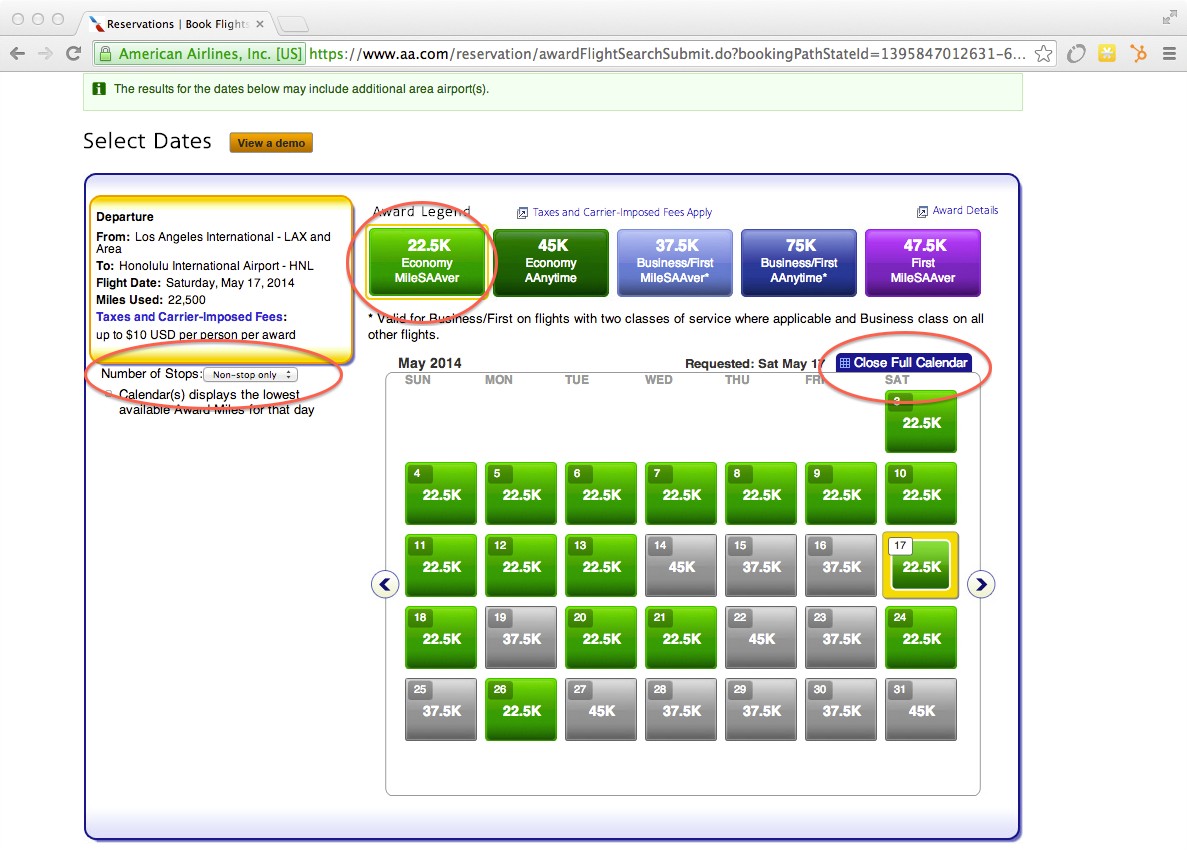 Perfect! Flights on Saturday, May 17th are available and I choose the following Saturday, the 24th for the return. I stroll down and click "continue".
With my British Airways avios, I can book any flight on American or Alaska Air that is in the MileSAAver category. Note: You cannot use avios for Hawaiian Airline flights.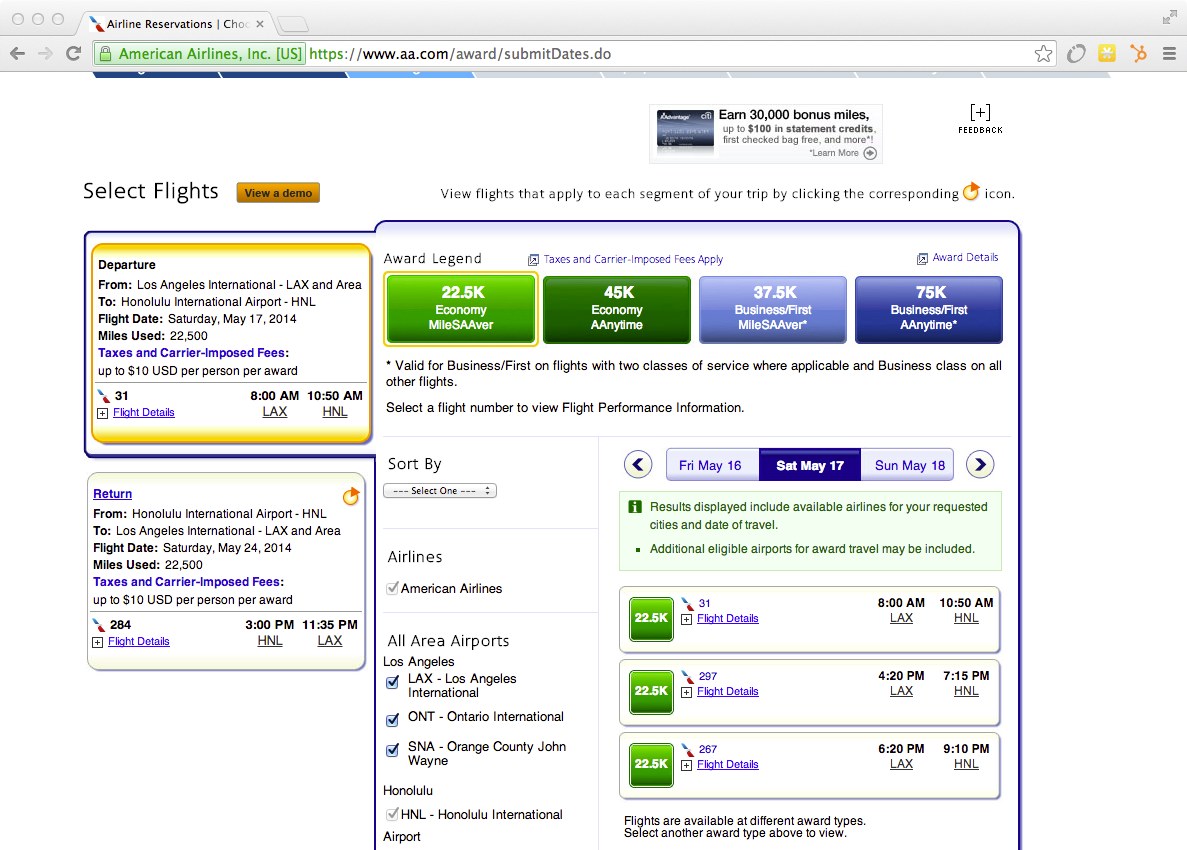 2) Transfer Amex Points to British Airways Avios
Now that I know when my desired flight is available, I go to American Express to transfer the points to my British Airways account. If do you not already have a British Airways account, you can sign up here http://www.britishairways.com/travel/register-now/public/en_us . Have your account number ready, because you will need it soon.
I log into my amex account and then go to membership rewards. On the menu bar, I click on "Use Points" and click on "Travel".
From there, I click on "Transfer Points" on the left side bar.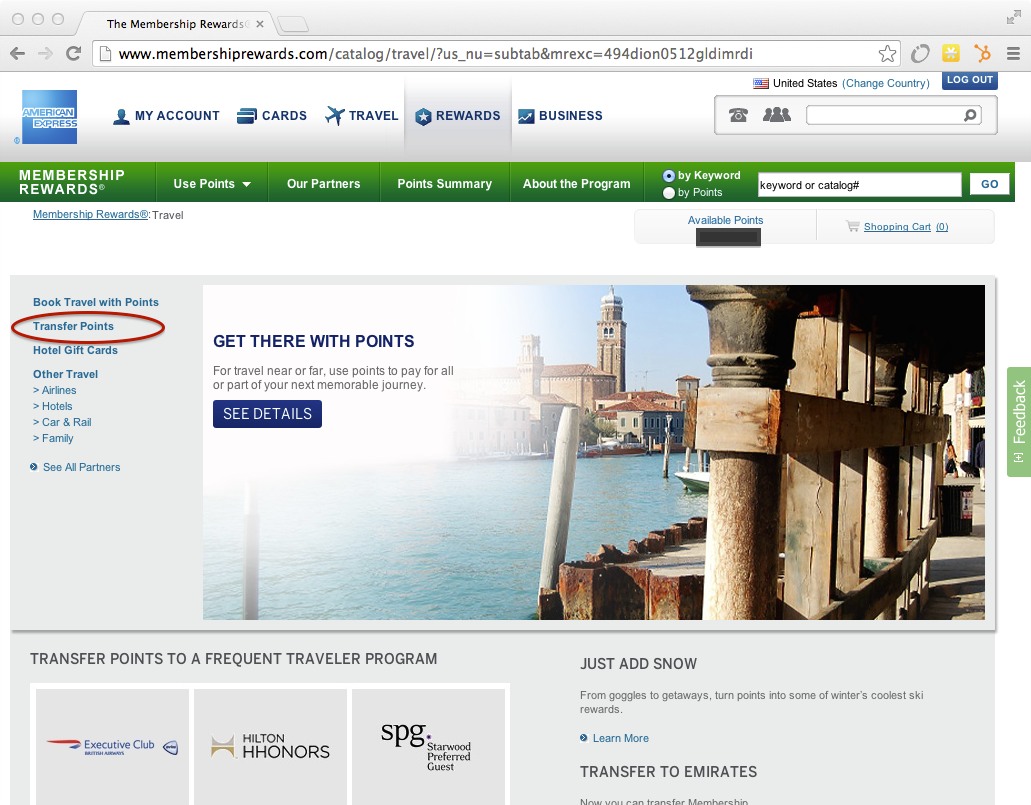 Then I select British Airways from the options available.

If you have not previously done so, link your British Airways Executive Club account.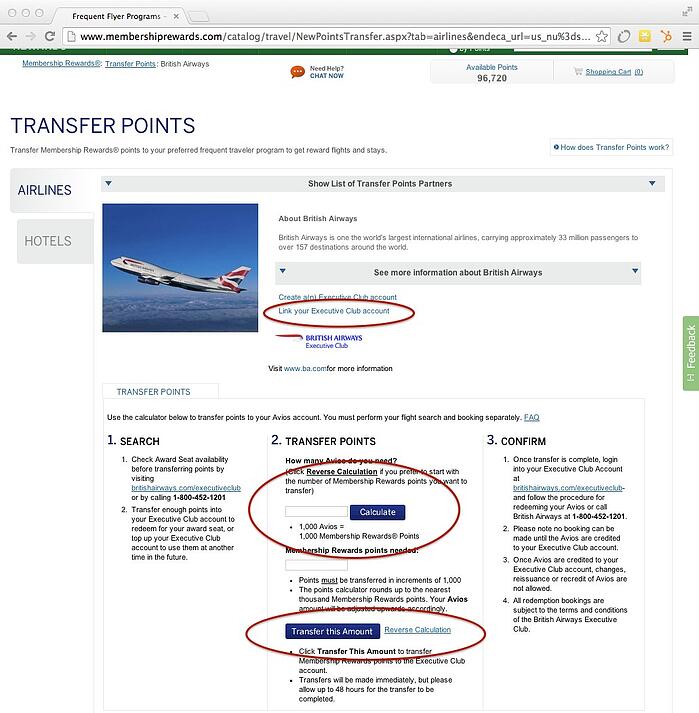 With my accounts linked, I type in the needed miles 25,000 (for one round trip) and click "Transfer this Amount".
On the next screen you will need to type in the four-digit code on the front of your card and the three-digit code on the back. Then you will get to the confirmation screen.
And done! Your points have been transferred. Usually, the transfer is instant. If you are currently logged into your British Airways account, you may need to log out and log back in to see the Avios show up.

3) Book Flight on BristishAirways.com with Avios
I now go to britishairways.com and go into my account. I click on the "Executive Club" on the top menu and then on the "Spending Avios" link. On the next page I click on "Book flights with Avios" on the left sidebar.
Here I type in LAX and HNL and my travel dates that I found the available flights at aa.com.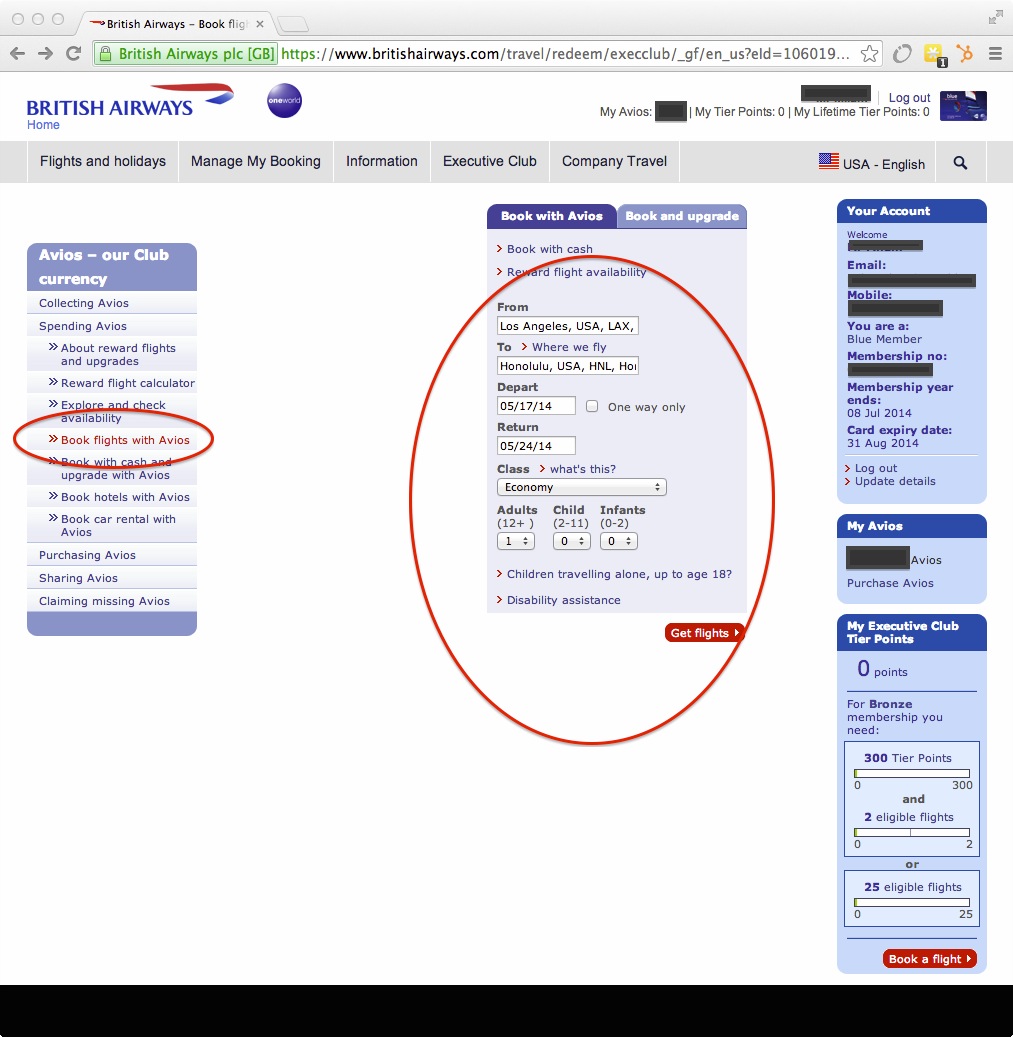 I see my flights and select them. At the bottom of the screen I see the price of 25,000 Avios and tax of $22.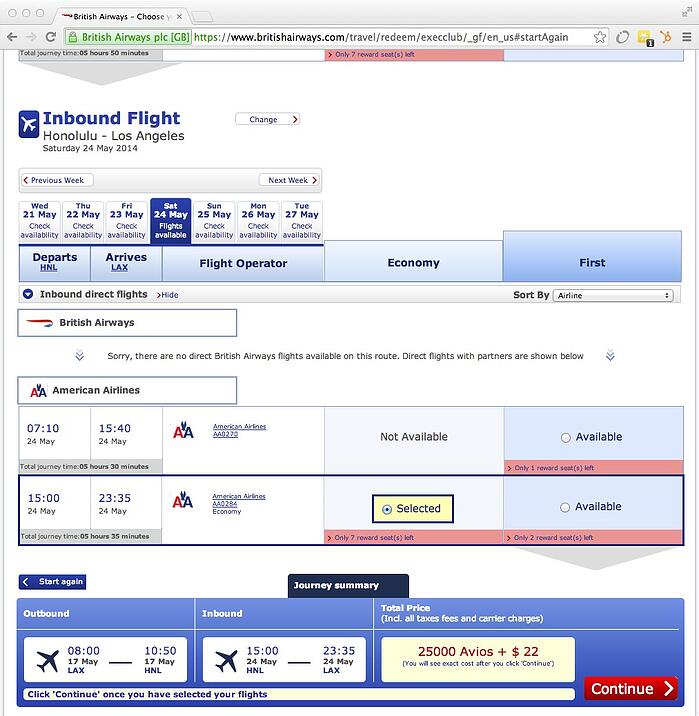 Clicking "Continue" will then take me to fill out my information and credit card info and to complete my booking.
There you go! A great use of your Amex membership points for a round trip flight to Hawaii. At the time of writing this, the cash price of this ticket is $740. That is giving me a value of almost $.03 per membership reward point. And that is a great deal.
The process is the same to book an award ticket to any other destination that American airlines flies and international destinations with Air Berlin. AA.com does show availability for Air Berlin flights and you can book Air Berlin on britishairways.com.

Examples of Great Uses of Avios
Here are some examples that a friend of mine recently booked with his Amex points through British Airways.
4 round trip tickets from Los Angeles to Hawaii for his family of four for a total of 100,000 points.

4 round trip tickets from Los Angeles to Salt Lake City his family of four for a total of 36,000 points (family ski trip!).

One Last Note
Once or twice a year, American Express holds transfer bonus promotions. Where you can get 20-30% bonus on transfer points to British Airways. Keep a look out for these!
As business owners, we know you are working hard. But don't forgot the take a break now and then to recharge and put those amex membership reward points to work. If you have any questions, feel free to contact me.
What is your best use for Amex Membership Rewards points? I would love to hear.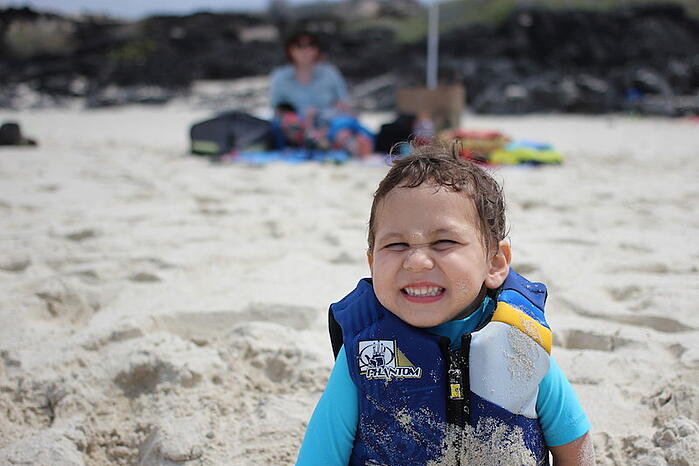 On the Olguin Family 2013 trip to Hawaii on the Big Island.
---
Hector Olguin is the marketing manager at Milam, Knecht & Warner, LLP. When he is not thinking about marketing, he is planning his next travel adventure with his wife and two rambunctious boys.

www.linkedin.com/in/hectorolguin/