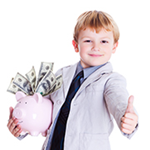 About the Child Tax Credit (CTC) and advance payments
Taxpayers are allowed a CTC for each qualifying child. The credit was temporarily expanded and made refundable for 2021 by the American Rescue Plan Act (ARPA). It phases out for taxpayers with adjusted gross incomes (AGIs) over certain thresholds.
Eligible families will receive up to $300 per month for each child under age 6 and up to $250 per month for each child age 6 and older.
Read More