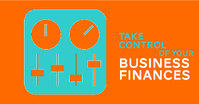 You most likely started your business because you are really good at something or knew how do something better. Maybe it was product design, marketing, manufacturing, etc. More often than not though, finance is not your strong suit. For many business owners, business finance is an area where they lack clarity and direction; it is even a source of stress and fear.
It Does Not Have to be That Way.
Lack of clarity in your business's finances will cause problems. Problems that will lead to avoidable losses and even drag your business down into failure.

The Top is Lonely
As a business owner you are on the top, the ultimate decision maker. It can be lonely up there, but it doesn't have to always be. In the area of finance, you can build up a team that will provide you with the support skills and knowledge you need to take control.

Two Reasons
Getting a hold of your finances will make a large difference in your business. You can expect the following to happen:
You will have understandable financial data to help you and your team make better business decisions, which in turn increases profits.

You will be better prepared to take advantage of all the tax planning strategies available to minimize your business and personal tax liability.


Build Your Team
Your finance team should consist of the following three types of people.
A Certified Public Accountant (CPA)

A business banker

A financial planner

The CPA.
You need a CPA that will work with you more as a business advisor than just a tax return preparer. Not only should you expect from your CPA proper and timely tax filings, you should also expect him to work with you on tax planning to minimize taxes both this year and help develop a long-term tax strategy to minimize taxes through your exit.
Your CPA should be able to give you advice on your business finances. He should also help you develop and understand financial metrics to help you run your company better.


The Business Banker. Your business banker is betting on your success. The bank has a vested interest in your success and your business banker is your first line of support at the bank. Build a solid relationship with your banker and let him understand you and your business. If and when the time comes that you need additional capital, whether in an emergency or planned situation, he will be the one going to bat for you.
Bad news? Keep them in the loop and let them know what you are doing to fix the situation. Better to come straight from you, than from other sources. Your success is your banker's success.

The Financial Planner. A good financial planner will help you with investing your personal and retirement funds. Also, to be sure that you are adequately covered for risks that could take away all you have worked hard to build.
The ideal situation is when the CPA, business banker and financial planner know each other and "play" nicely together. Depending on who you already have a solid relationship with, ask them for referrals for the other two. Take the time to get to know them and make sure they are willing to be on your financial team.


The Systems
There are great technology solutions out there so that even the smallest business owner can create an integrated financial "ecosystem" that runs securely online.
Have the technology work for you. Eliminate duplication of entries and manual processes needed to have the financial results in a format that can be used. The goal is to have the information as current as possible and not have to wait excessively for financial information to be compiled. The sooner you have the financial information the sooner you can make or adjust decisions to run your company better.
Here is a sample solution:
Depending on the complexity of your accounting needs, you can have an automatic, integrated financial system that provides you with usable financial data and saves you from all the busy work, in some cases, for as little as $200 per month.
To get the best system for your business, you should talk with your CPA firm. They will understand your business and what exactly is needed.


Your Measurement Driven Goals
Now with a solid grasp on your business finances put that data to use. It starts with your business goals, industry information and company value proposition and strategy. What data and financial metrics (Key Performance Indicators, or KPI's) will provide you with insights on your progress, and whether you are making good business and strategic decisions?
We conduct a six session training series that teaches business owners what to measure, how to use their financial data, and how to develop and use KPI's. Take a look at a few of our session recaps from last year. We plan on starting a new session later this summer.


2 Ways to Put Your Financial Statements to Work



4 Business Credit Tips for Business Owners

Return on Investment for Business Owners

4 Insights on Business Valuation
A meeting with your CPA firm can help you in defining the most useful financial metrics and other KPI's to help you reach your goals.


Take Control
Even though you may not be a financial expert, you can take control of your business finances so you can focus on what you do best – running the business, making sales, working with customers, etc. The key is to build up your financial team of business advisors that will work closely together. With that in place, you can move forward with confidence that you are making the best business decisions.
---

David Knecht, CPA, CVA, MAcc, is a founding partner of Milam, Knecht & Warner, LLP. He regularly speaks and publishes articles on tax and business valuation.

www.linkedin.com/in/knechtdavid